12 Completely Doable Wellness Resolutions For Each Month of the Year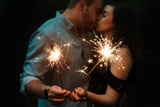 We've all made New Year's resolutions we couldn't keep. Whether we failed to drop a dress size, land a big promotion at work, or hit the gym seven days a week, there's a good reason most people break their resolutions. Sometimes the goals we set for ourselves are just a tad (or a ton!) too ambitious.
So why not try shaking things up with a different approach this year? Instead of making a laundry list of radical life changes, try choosing realistic goals instead that will be good for your mind, body, and soul. Here are 12 healthy resolutions - one for each month - that are completely doable for anyone in 2019.