Jonah Hill and Channing Tatum Had a 21 Jump Street Reunion and Our Hearts Just Burst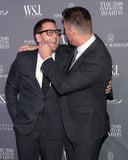 Channing Tatum and Jonah Hill just had a 21 Jump Street reunion and we've never seen two people so happy to see each other. The pair hugged it out on the red carpet at the WSJ Magazine Innovator Awards at the Museum of Modern Art on Wednesday and we can feel the love from here.
Channing and Jonah don't hide their hilarious chemistry when the cameras are out, in fact they're no strangers to throwing an actual party on the red carpet. Although they've been working on projects of their own, with Jonah being his hilarious self on SNL and Channing starring in family films like Bigfoot, which no doubt daughter, Everly is proud of. Ahead, see all of the adorable snaps. We can't be the only ones hoping they work together soon?