Princess Eugenie's Wedding Thank-You Notes Are Even Sweeter Than We'd Have Thought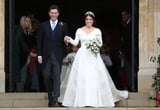 It's been a little less than a month since Princess Eugenie and Jack Brooksbank tied the knot at Windsor Castle's St. George's Chapel, and just like Prince Harry and Meghan Markle did before them, the couple have now sent their wedding thank-you notes. According to the Instagram account Royal Letters, the letter features a photo of the couple from their wedding day along with a sweet, handwritten note from Eugenie. "Thank you from the bottom of our hearts for making our wedding so special and for thinking of us as we start our married life. We are completely overwhelmed with happiness."
The gorgeous snapshot - which features Eugenie, Jack, and their bridal party - is one of the now iconic official wedding portraits the couple took after the ceremony. They were all taken at Windsor Castle by photographer Alex Bramall and include a few sweet moments among the royal family, as well as a few private moments between Eugenie and Jack, which made the whole world swoon. See the royal couple's thank-you note ahead, and read on for more photos of their big day.