7 Activewear Gifts For Women Who Love to F*cking Curse (and Squat)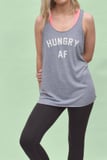 While they can sometimes be dismissed as vulgar or crass, studies show that people quick to swear are actually smarter than their noncursing counterparts. So why not show the sailor in your life some love with these gifts?
Ditch the tired kitschy, inspirational picks and basic getups - we're looking at you, motivational t-shirts and standard, solid-colored leggings - and read on to find some activewear with f*cking attitude.