You: A Breakdown of Every Twisted Thing That Happens in the Book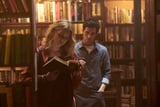 Caroline Kepnes's bestselling thriller You has made its way to the small screen, and it's just as unsettling as its book counterpart. The series stars Penn Badgley as Joe, a New York City bookstore manager who becomes more and more obsessed with a young woman, Beck (Elizabeth Lail), who comes into his store one day. Over the course of a few months, Joe's obsession with Beck reaches horrifying heights, resulting in things like breaking and entering, stealing underwear, and even murder.
Badgley's version of Joe may not quite come off as menacing as the character in Kepnes's story - likely because he doesn't have a cute little neighbor to take care of in the book, which helps humanize him - but the psycho stalker lurking within him is definitely still there. If you're interested in finding out how the story unfolds in the book, keep reading. But be warned: spoilers on spoilers ahead!