Kacey Musgraves's Delicate Tulle Gown Looks Like a Nod to Her Golden Hour Album Cover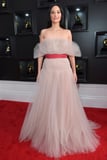 Kacey Musgraves is giving us butterflies in her ethereal Grammys gown. The 30-year-old country singer showed up to Sunday's award show in a strapless pale pink tulle dress that looks sweeter than cotton candy. The delicate dress is belted at the waist and fans dramatically at the top, giving off a similar appearance to Kacey's Golden Hour album cover, which is nominated for album of the year.
Kacey has already secured two Grammy wins from the album. Her song "Butterflies" won best country solo performance and fan-favorite track "Space Cowboy" won best country song. Could there be more in store for Kacey tonight? Scroll through these photos of her angelic gown below, while we wait and see.