3 of the Cast Members You Can Expect to See in John Mayer's Heart of Life TV Show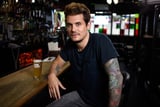 If asked to name your top five favorite John Mayer songs (or probably even your top 20 . . . ), chances are "The Heart of Life" wouldn't make the cut, and that's not because it isn't a good song - it's because you probably have never heard it. Taken from Mayer's third studio album, Continuum, the song was never even released as a single, but that's not stopping ABC from developing a drama series of the same name, with Mayer at the helm. Yeah, we're confused, too, but definitely intrigued.
Heart of Life will follow two sets of adult siblings from vastly different worlds who discover they share a father, forcing them to revisit everything they thought they knew about their shared parent and their separate childhoods. Mayer will serve as executive producer alongside writer Ben Queen (the guy behind NBC's Powerless), and though little has been revealed aside from the premise, we at least know three of the stars who will be leading the series.