Simply Put, This Woman Lost Her Sh*t When Kelly Clarkson Pulled Her on Stage at a Concert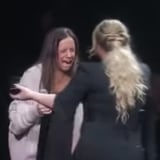 What happens when Kelly Clarkson pulls a superfan on stage at one of her concerts? Well, said superfan promptly loses their sh*t - that's what happens. This exact scenario unfolded during Kelly's recent Meaning of Life tour stop in Boston when the 36-year-old singer invited Kate Brewer to join her on stage. Kelly paused her "Minute and a Glass of Wine" segment to show the audience Kate's viral wedding video, in which her wedding party and guests broke out in a flash mob set to "My Life Would Suck Without You." Kate slowly but surely put the pieces together and realized she was on the brink of meeting her idol face to face, and a full-on tizzy ensued. Frantically repeating a combination of "Is it me?" and "Oh my god," a tearful Kate and her husband, Dave, who planned the whole thing, headed to the stage to join Kelly.
Noticing Kate's emotional demeanor, Kelly casually said, "Don't cry! I'm not that cool, I swear." Ugh, we love a modest queen! Check out the superfan's shocked reaction - hyperventilating and all - in the clip above, then watch the video below, starting around the 11:50 mark, to see another angle of their sweet onstage interaction.