105 Unique Boy Names You'll Fall in Love With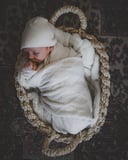 Are you on the hunt for an unusual baby boy name? We've looked at the United States Social Security Administration's list of the most popular names and rounded up an A-to-Z of 105 rare boy names. Using a ranking system where 1 is the most common name, these unique boy names all have a rank of 901 or greater!
But before we reveal the names, check out a few interesting trends we noted among them.