11 New Oreo Flavors That Have Already Made 2019 a Sweet, Sweet Year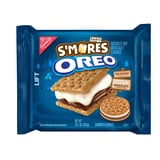 Although you probably try to mostly eat healthy and limit sweets, every once in a while indulging in a delicious sweet treat in is a must. And, if you ask us, there's nothing quite like a tall glass of milk and a stack of Oreo cookies to hit the spot. While the classic flavor tastes great (and also elicits happy childhood memories for us), we love the fact that the brand is always surprising us with new iterations of our favorite cookie.
This year alone, Oreo has added a bunch of new, interesting flavors to its roster, including a strawberry Valentine's Day flavor; thins inspired by coffee; and everyone's new favorite, The Most Stuf Oreos - and we're sure that's not the end. Having a hard time keeping up? Here are all of the new Oreos that 2019 has given us.