6 Plants That Can Help Lower Your Stress Levels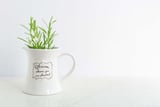 Plants are so much more than just something beautiful to look at - they can have profound effects on our wellbeing, too. For instance, they can help clean the air around us, making it healthier for us to breathe. They can also increase work productivity levels up to 15 percent. But did you know that plants can also help reduce stress?
According to research, taking care of indoor plants can vastly reduce the amount of physiological and psychological stress you may experience day to day. This same research also shows that actively engaging with indoor plants has the ability to suppress the sympathetic nervous system. This means keeping some plants in turn keeps you cool, calm, and collected - especially if you choose the right ones. Interested in adding some stress-busting plants into your home or workspace? Here are six of our favorite picks.