Adventure Awaits These Parents-to-Be, So They Had an Adorable Airplane-Themed Baby Shower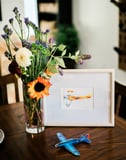 Having a brand-new baby in your life is an adventure of a lifetime. So these soon-to-be parents decided to embrace the ideas of adventure and travel with a spectacular airplane-themed baby shower. The new mama had some awesome friends who surprised her with photographer Marissa Fox, who captured these beautiful photos of the joyous day.
"They brought all of their best friends together, even flying some up from LA!" said Marissa about the event to celebrate the birth of their baby boy. "From the adorable paper airplanes to the amazing charcuterie board, this one was so cute!" We couldn't agree more with Marissa. The decor was on point and included fantastic floral arrangements all around the room with colorful propeller airplanes to match them.
The dessert bar included speckled macarons, delicious tarts topped with fresh raspberries, and an arrangement of cookies. There were also some fun games like one that involved guests guessing the due date. Everyone had loads of fun during the celebrations, and it shows in these fabulous photos, so make sure to check them out!