Ariana Grande Surprised Coachella With *NSYNC - and Why Yes, It Is Tearing Up My Heart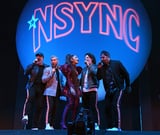 Ariana Grande closed out the first weekend of 2019 Coachella with a bang - and a boy band. After some teasing in the days leading up to her performance, the singer surprised the festival crowd with an appearance by *NSYNC. Though unexpected, the joint performance made sense after Ariana had previously sampled *NSYNC's "It Makes Me Ill" for "Break Up With Your Girlfriend." The group performed both of those songs, in addition to "Tearin' Up My Heart."
Justin Timberlake unfortunately wasn't in attendance, having just completed his Man of the Woods tour the night prior. Despite his absence, however, it seemed like Lance Bass, JC Chasez, Joey Fatone, and Chris Kirkpatrick had a blast. Fatone wrote on Instagram, "Was a great time and a chance to perform with my brothers once again." Ahead, see clips and photos from one of the more memorable Coachella moments in recent memory.