Ben and Jerry's Dropped 2 New Cookie-Inspired Flavors at Walmart, and Pass Me a Spoon, Please!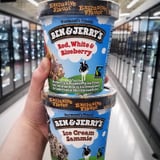 If you're someone who gets excited about ice cream (like me), then your Monday just got a whole lot better, because Ben and Jerry's just released two new Summer-inspired ice cream flavors - and they're both packed with cookies!
Presumably the perfect post-barbecue snack on the Fourth of July, a pint of the brand's new Red, White, and Blueberry ice cream contains blueberry and raspberry ice cream swirled with vanilla ice cream, chopped strawberries, and crunchy shortbread pieces. So it's basically a deconstructed ice cream pie. As for the second new flavor? Ice Cream Sammies adds a twist to Ben and Jerry's classic vanilla ice cream by mixing in chocolate sandwich cookies (think Oreos, minus the cream), and chocolate cookie swirls. Yum! See more photos of the frozen treats ahead and stop by your local Walmart to stock up before Summer officially hits.