Ellen Pulled a Classic Move Surprising 3 Teachers With $50,000, and There Goes My Mascara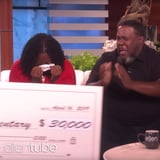 Ellen DeGeneres is known for a lot of things, but perhaps the most classic Ellen move is inviting deserving teachers onto her show to surprise them with an ungodly amount of money. This time, the surprise came for three teachers from Como Elementary School in Fort Worth, TX: Thomas Mayfield, a math teacher who helps his kids learn through raps and song parodies; Tomeka McGee, the school's counselor, who treats each and every student as her own son or daughter; and principal Valencia Rhines, who has helped turn the school from an underperforming "F" campus to a "B" campus in three short years.
After speaking with all three educators, Ellen shared a video with them featuring several of their students, who each praised their teachers for all they do. "Because of my teachers, I believe I can graduate from Harvard and become a NASA rocket scientist," one said. Another added, through tears, "Because of my teachers, I believe I can and know I can succeed in life."
Cue the tears.
And then, of course, because Ellen is Ellen, she worked with Cheerios, which donated $20,000 to the school's food pantry, and, through its Box Tops For Education program, another $30,000 to help equip the students with laptops. Watch the emotional video in its entirety above - you'll need to reapply your mascara afterwards.