Elmo Just Taught Cersei and Tyrion a Thing or 2 About Respect, and We're LOL-ing All the Way to Westeros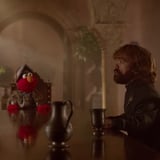 If there was ever a consistent part of the Game of Thrones series, it's that there's always enough bad blood and violence to go around. And while we can't get enough of the family rivalries - both living and dead - there's one, er, person who's not having it . . . Elmo.
In a recent episode of Sesame Street, the beloved red muppet sat down with Cersei and Tyrion to discuss how they can learn to respect each other, and no, we've actually never seen these siblings be nicer to each other. But the most impressive part? Elmo managed to put seven seasons of drama - and well, all-out hatred - to bed in under two minutes. Maybe the final season of Game of Thrones will have a happy ending after all!