Here's How to Unblock a Number on Your iPhone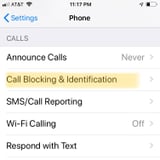 When it comes to strange incoming calls on my cell phone, I almost always hit "Block Caller." Incessant scam callers, middle-of-the-night calls from unknown numbers (creepy!), and telemarketers all end up in the same place - on my "Blocked Callers" list. But what happens when you accidentally block someone you didn't mean to (this has actually happened to me before)? Or you're on good terms with someone again that you used to have blocked (no judgment!)?
Thankfully, it's pretty easy to unblock a blocked number on your iPhone. All you have to do is go to your Settings, read down, and select Phone. From here, tap Call Blocking & Identification, and you'll be brought to a screen that lists out all of the numbers you have blocked from calling or texting you. Swipe each one left individually so the "Unblock" option appears in red. Tap that logo, and voila! That number is now free to call or text you as they wish.
And if you change your mind and want to block them again, all you have to do is visit that number (either in Recent Contacts or in your Contacts), tap their name, and scroll down and select Block this Caller. Back on the blocked list they will go!