I'm Already Quoting Ali Wong's New Netflix Rom-Com, and I've Only Seen 1 Clip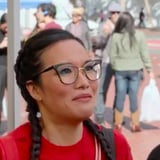 Ali Wong is teaming up with Netflix again, and, wow, we're excited. The Hard Knock Wife comedian is well-known for her Netflix specials, but this time around she channeled her humor into a rom-com with "Fresh Off the Boat" actor Randall Park. The two star in Always Be My Maybe, a movie about old friends and their unresolved feelings.
In the first teaser, released on April 23, Park's character Marcus tries to find a way to tell Wong's Sasha how he feels. However, when they connect in person, she has some steamy (albeit disappointing) news for him. Looks like this storyline will play with our heartstrings - sign us up! Watch the clip above to get a feel for the hilarity that's hitting Netflix on May 31.