Joe Jonas and Sophie Turner Are Heating Things Up in Mexico - Good Luck Keeping Your Cool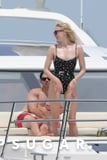 Forget feeling cool: Joe Jonas and Sophie Turner are heating things up in Mexico! On Friday, the couple was spotted soaking up the sun as they set sail on the Bad Romance III ahead of the Easter break. The Jonas Brothers frontman put his tattoos on display as he went shirtless, while the Game of Thrones actress recycled her sexy black Onia one-piece. At one point, Joe could be seen spraying sunscreen on Sophie before the two kicked back with some drinks.
The relaxing vacation comes after a busy few months for the pair. While Joe recently reunited with his brothers and released new music, Sophie has been promoting the eighth and final season of GOT. And their schedules are only going to get even crazier from here! The Jonas Brothers are getting ready to go on tour, Sophie's film Dark Phoenix is set to release in June, and the couple is set to tie the knot this Summer. They better get in as much R&R during their getaway as they can!