Krispy Kreme Is Dropping Fruit-Inspired Doughnuts This Summer, and I'm Fully Salivating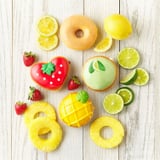 Much like us, Krispy Kreme is anxiously anticipating Summer's arrival with open (albeit sun-deprived) arms. Whereas I'm personally doing so by shoving my Winter coats far under my bed and online shopping for new bikinis, the doughnut joint is prepping for the impending seasonal switch-up by releasing a collection of fruit-inspired treats.
From May 6 through June 16, participating Krispy Kremes across the US will offer three new doughnut flavors - Pineapple, Key Lime, and Strawberry - all of which are shaped and decorated to resemble the actual fruits. The Pineapple Doughnut features that signature crisscrossing pattern and is bursting with tangy pineapple filling, the light green Key Lime flavor is chock-full of tart cream, and the heart-shaped Strawberry option is packed with red strawberry filling. Are you drooling yet?
Oh, and on top of these brightly colored treats, Krispy Kreme is also re-releasing its famed Lemon Glaze Doughnut to help foodies kick off Summer on a zesty note. But, just as the chain did last year, the popular flavor will only be available for one week, beginning April 22. Needless to say, our taste buds are more than ready.