Lil Dicky Drops Star-Studded "Earth" Video Featuring Leonardo DiCaprio, Justin Bieber, and More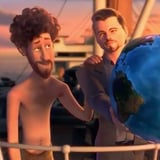 After days of teasing a cryptic video that flashed a ton of celebrity names, Lil Dicky dropped his new single "Earth" on Thursday night. The video features 30 of music's biggest names as animated animals, including Justin Bieber as a baboon, Ariana Grande as a zebra, and Ed Sheeran as a koala bear. While the concept may seem a little confusing at first, the 31-year-old rapper recently stopped by The Ellen DeGeneres Show and explained that the song is "all about saving the Earth" and raising awareness on the "environmental crisis going on right now."
All the proceeds from the video will go to Leonardo DiCaprio's foundation, which aims to protect endangered wildlife and threatened ecosystems and communities around the globe. In fact, Dicky actually went to DiCaprio's house to discuss the project beforehand and was impressed by how much knowledge he has on climate crisis. Check out the star-studded video above now!