Mark Hamill Can Snap Into His Harrison Ford Impression in a Split Second, and It's So Wild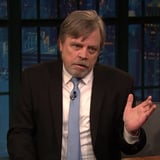 Just after the release of the trailer for the next Star Wars installment, Mark Hamill appeared on Late Night With Seth Meyers and reminisced about the early days of the franchise. On meeting his costars, Harrison Ford and Carrie Fisher, who would go on to be his dear friends, Mark said, "Harrison walks in, and he's just too cool for school. Just instant idolization. Carrie was funny and witty and adorable." Adding, "We just immediately hit it off. It was perfect."
Mark then treated the audience with his stellar Harrison impression. In a story about shooting a scene in a trash compactor for Star Wars: A New Hope, Mark at the time said he felt as though his hair should be wet and messed up. That's when Harrison replied, "Hey, kid. It ain't that kind of movie. If people are looking at your hair, we're all in big trouble." When you film four movies with someone, you really get to know them, huh?