Promposals Are the New Proposals - 100+ Creative Ways to Pop the Question to Your Date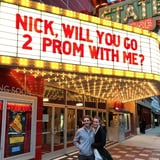 Do you know what the the most important day of the year is? No, we aren't talking about your birthday, your high school graduation, or really any other day for that matter. We're talking about prom - a day where everyone gets the chance to dress their best and dance the night away. But before that day can come, there's something even more important than just looking good and showing off your moves, and that is asking your soon-to-be date to go to prom with you. With the rise of over-the-top promposals, a simple, "Will you go to prom with me?" letter that you wrote in first period just won't cut it. From ambulance surprises to hand-drawn portraits to even setting sail at sea, promposals these days are seriously no joke.
So, if you're having trouble thinking of the perfect way to ask your date to prom, we rounded up some of the best ideas out there. Whether you give your promposal a personal spin, make it sweet, or go completely wild, let the fun begin before the dance even starts. We can promise you that the biggest day of the year is about to get so much more memorable.
- Additional reporting by Tara Block