Shake It Out With This Cardio Dance and Barre Toning Workout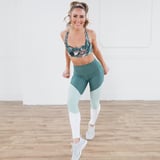 If you're looking to add some aerobics into your workouts, this cardio dance session will definitely get you sweaty. Aubre Winters, founder of Sweat Sessions leads you through the dance moves and throws some toning barre-based work into the mix. The workout will raise your your heart rate, and your abs and booty will feel the barre work. Get ready to have a blast while burning some serious calories. And don't worry if you're new to dance or working out, we provide modifications along the way.
On Aubre: Onzie outfit and APL shoes. On Deja: Onzie tank & tights, Avocado bra and Reebok shoes. On Christina: Onzie tank, Avocado tights, and APL shoes. Manduka mats.