Short on Kitchen Space? These 33 Genius Organizers Are Total Game Changers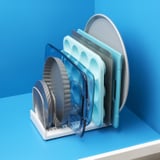 I live in a tiny city apartment, and, well . . . my kitchen is the same size as my bathroom. It does everything it needs to, but lacks serious storage space. It seems like on the daily my pots and pans are colliding with my plates and glasses - it's beyond frustrating. In an effort to keep myself from losing it, I turned to retailers like Amazon, Walmart, and even Urban Outfitters. These stores always seem be my saving grace when it comes to quirky home products or useful organizers. I was shocked at the amount of handy items available and quickly snatched up a handful.
If you're in a similar position, it's time to take Spring cleaning to a whole new level - I'm here to help. Ahead, I've curated a list of bestselling, top-rated, and favorite finds that are bound to help you get and stay cleaner than ever, ultimately creating more space. I wondered how I lived so long without these, from cabinet separators to lazy Susans for your fridge and even tools to hang cleaning products, and you will too. Keep reading to transform your space overnight; you won't regret it.