Target's Outdoor Rugs Will Have Your Backyard Summer Ready Faster Than You Can Say "Fire Up the BBQ!"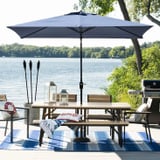 If you say you've never been in love, then clearly, you've never been to Target. The all-in-one merchandiser has a variety of brands, like Hearth and Hand with Magnolia and Threshold, that really know the way to our hearts (and by that I mean, our wallets). Whether you're prepared for a shopping spree or not, a quick scroll through Target's website always gives us a reason to spend, and with Summer fast approaching, we found an accent piece worth the money: outdoor rugs. Rugs can provide an easy facelift to a bland patio, and as the season of barbecues and brisk Summer nights awaits us, there's no reason to not indulge in a small upgrade that packs a punch. If you're ready to breathe life into a bland patio, then we've gathered 97 outdoor rugs ready for the challenge - have a look!
Related: Target's New Home Collection For Spring Is Here - Get a First Look Now!