The Annabelle Comes Home Cast Shares the Spooky Supernatural Things That Happened on Set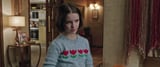 When you strip away all the movie magic, horror films aren't actually that scary. After all, what makes a good horror film? It's an insanely creepy score. It's a well-placed jump scare (though we appreciate when there aren't any jump scares just as much). But on the set, in the silence, with 50 actors, directors, and crew members milling around, it's hard for the set of a horror movie to be scary. That said, every once in a while, a strange and impossible-to-explain occurrence will rattle everyone who's there to witness it. Case in point: the spooky Los Angeles set of Annabelle Comes Home on the Disney Burbank lot, which I visited in December 2018.
No, for the most part, production went off without a hitch . . . until it didn't. Here and there throughout the shoot, many of the stars described unsettling things that happened to them that they couldn't fully hash out with logic or a laugh. It got to a point where they decided to have a Catholic priest bless the set, something I learned is a tradition and superstition for pretty much every film in the Conjuring universe. Wondering what sorts of things the actors witnessed after the camera stopped rolling? You've been warned: some of them might give you goosebumps.