The Egg Hunt Is Canceled - These 100+ Easter Brunch Recipes Are All We Care About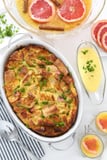 Rise and shine, because Easter morning just got a whole lot better! If you thought that the ham was your favorite thing to eat on Easter, think again. We found the tastiest, heartiest, and hands-down best breakfast and brunch recipes that will have everyone wishing it was Easter every day. From jam-packed frittatas to sweet and savory pancakes to rich egg dishes, the breakfast table is where you can find all the best holiday bites.
Be sure to push your egg hunt to later in the day, because this brunch will be worth savoring every bite of.
- Additional reporting by Erin Cullum and Nicole Perry
Related: 100+ Ideas That Will Make Easter Your Favorite Holiday to Decorate For