These $90 Sam Edelman Mules Are the Only Shoes I'm Wearing This Season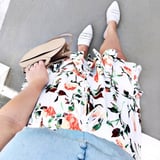 Living in a city where you have to walk (basically) everywhere mean you need to find a comfortable pair of shoes that don't rub, pinch, or fall off. But that can be harder than getting a Jonas Brothers song out of your head. Enter Sam Edelman's Natalya mules ($90). I started seeing these adorable mules all over Instagram, where bloggers and influencers raved about how cute and comfortable they were. I was intrigued. Could this pair of mules be the answer to my pedestrian prayers?
Since purchasing a white pair of these shoes, I've worn them almost every day. Not only are they cute with jeans, but they also add something extra to a sun dress or a pair of shorts. Did they stand up to the test of walking around the city? You bet! I wore them to work, brunch, and to run errands without a single blister to complain about. Now that I've gushed to you about how much I love these shoes, excuse me while I add the three other colors to my cart.