This Cute Lisa Frank Nail Art Would Go Perfectly With Your Favorite '90s Trapper Keeper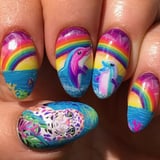 If you're a '90s kid with a love of nostalgic beauty experimentation, this Lisa Frank nail trend is about to bring rainbows and unicorns to your life. Just like the Trapper Keepers from your middle school days, no detail is spared to make this colorful nail art pop.
Talented artists like Instagram user @sweetandsavynails put their talents into creating custom designs with the Technicolor leopard print, dolphins, and unicorns, Lisa Frank-lovers know so well. Get a closer look at the Lisa Frank nail trend ahead, and bookmark your favorite snaps for your next manicure. This nail art makes a statement no matter which look you choose, so why not try a few?