This Nautical Baby Shower Had Glitzy Details, Adorable Sailboats, and Breakfast Burgers!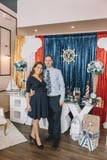 Mirtha and Sean married in 2014, and four years later, the happily married couple were expecting their first child, Matthew. They decided to have a fun and adventurous sailing-themed baby shower. "The two chose to celebrate the arrival of their son with a gathering of friends, family, and close coworkers who have relished in their journey with them along the years," said photographer Logan Raicovich.
The pair chose a private room in a trendy restaurant in New York as the venue for their baby shower with a red, white, blue, and gold color scheme. Guests were treated to some delicious breakfast burgers with fries, french toast, and other breakfast foods. They had a table full of sweet treats, like sailor-themed sugar cookies, cupcakes, lollipops, and at the center of it all was a marvelous two-tiered cake with gold detailing. "The couple entertained their guests with traditional shower games, indulged them in a sweet and salty brunch-style menu, and hired a professional to outfit the room in a nautical theme. The Prosecco was flowing, the conversation was lively, and a flurry of snowflakes were beginning to dance outside," said Logan about the baby shower.
Check out all the nautical details in these photos ahead!