This New Instagram Sticker Lets You Quiz Your Friends, and BRB, Updating My Story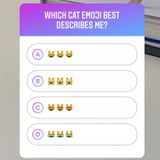 Instagram is always bringing something new to the table to help us interact with our followers, and I can feel my inner Riddler rubbing his hands together in a mischievous fashion thanks to the app's latest update: the Quiz sticker!
Unlike the Instagram Stories Question sticker, which allows your followers to ask you questions, the Quiz sticker turns the tables and puts you in charge of a multiple-choice question that your followers can answer. Available on iPhone and Android, the new feature is exactly what's been keeping me from quizzing my friends on all of our most hilarious moments together and finding out once and for all which emoji I embody most, according to my squad. Read ahead to see just how this cool new sticker works!