Veronica, Who? Camila Mendes Traded In Her Riverdale Hairstyle For a Lighter, Choppy Lob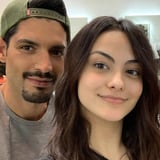 Camila Mendes is kissing her Veronica Lodge hairstyle goodbye - for now, at least. The 24-year-old actress recently traded in the signature look fans have come to expect from her Riverdale character for a lighter, choppier cut.
Mendes went through an intensive all-day process to get her hair back to its roots. Her colorist, Matt Rez, explained the reasoning behind the time-commitment on Instagram. "Taking out layers of blue black that we have been doing for her character Veronica Lodge on Riverdale was a 6 hour process to keep the integrity of her hair," he wrote. "Taking extreme care to be gentle and using the highest grade color products is key!"