We Spy a Perfect Day Drinking Opportunity With This Binoculars Flask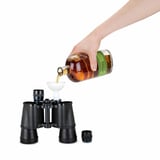 The great outdoors is not for everyone, and that's OK. We're not judging if your favorite outdoor activity is tailgating. However, if you get roped into a hiking trip this Summer (it happens, all your friends start talking about how fun hiking is, and all of a sudden you've forgotten you hate bugs and long walks and you're in it), then we have the perfect solution for you. Rather than seeing rare birds, this Binoculars Flask will help you add a little fun to your hike with a little wine or liquor.
With two eight-ounce reservoirs in each eyepiece, you can fill this baby up with the drink of your choice and then screw the sneaky flask shut without anyone being the wiser - it actually looks like a real pair of binoculars. A funnel and handy shoulder strap are also included, making sure that day drinking has never been easier. Speaking of hidden flasks, may we also suggest this umbrella flask or this flask bracelet?