You Can Never Go Wrong With a Little Pretty in Pink Baby Shower, Especially When There's a "Mom-osa Bar"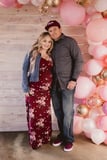 Tiffany and James were expecting a beautiful baby girl, so they decided that the theme of their baby shower should be "pretty in pink" - and there is no better way to describe the baby shower. The entire venue is splashed with pink and gold decor, which are two colors that marvelously complement each other. The baby shower took place in Bakersfield, CA, and guests had a great time at the party. They was an array of delicious snacks like cake pops, cookies, chocolate-covered strawberries, and a gorgeous white and gold cake with pink roses on top. Their celebration even had some alcoholic beverages at the "mom-osa" bar!
"Various shades of pink combined with gold details, florals topped with princess tiaras, and the overflowing balloon backdrop created a pink oasis for welcoming their baby girl," said Colleen Bauer, the event designer behind this lovely celebration. "The decadent sweets table was almost too pretty to eat!"
There was another fun surprise at this party, because Tiffany's sister was also pregnant - with twins! - and was able to do her gender reveal at the shower while surrounded by her friends, family, and loved ones. Keep reading to see these beautiful photos.