You'll Be Longing For Shiplap After 1 Look at These Magnolia Home Rugs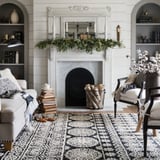 Chip and Joanna have more projects than we can list, but one that we can keep up with (and that their whole brand revolves around) is Magnolia. The couple, whose claim to fame started on HGTV's Fixer Upper back in 2013, is best known for their countryside renovations, and particularly, Joanna's pristine eye for design. Today, the pair has shifted their TV spotlight to their Magnolia brand, and in particular, their Magnolia Home collection, which features beautiful furniture, paint, wall coverings, and textiles that are all Joanna Gaines approved.
If a top-to-bottom Magnolia makeover isn't in your budget, then we highly recommend taking a look at their rug selection. Not only do Magnolia Home's rugs portray the rustic farmhouse style that we've grown to love, but their crisp colors and intricate detail can liven up a bland space effortlessly. If you're ready for a home refresh, then have a look at the gorgeous selection of rugs ahead!
Related: Target's Outdoor Rugs Will Have Your Backyard Summer Ready Faster Than You Can Say "Fire Up the BBQ!"